Everyday Trucker Hat Roaming Buffalo, Brown
The wild buffalo is an Americana icon roaming the North American wilderness. It is a perfect representation of the open west and the beautiful wilderness. The buffalo is largely associated with the great state of Wyoming; however, this is a great design for anyone that loves the adventure of exploring our great planet. Designed by our staff in New Bern, NC. Our Salt-Wash™ process creates a hat with a sun-bleached look and vintage style. Each hat is uniquely different.  The brown color with red contrast stitching makes this hat unforgettable! Hat is adjustable by snaps. Mesh is super soft and bill has a natural bend. Our Everyday Trucker hats are not to miss. Only at State Legacy Revival!

Shop here for the Roaming Buffalo baseball tee.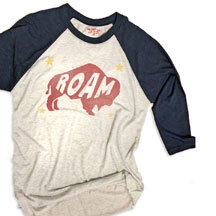 Reviews